Important Dates for
Authors
Call for Contributions:

closed

Abstract submission deadline for papers and posters:

closed

Notification of authors:

January 16, 2024

Publication of preliminary program:

March 7, 2024

Full paper and registration deadline for authors:

April 5, 2024

Conference:

June 18 – 20, 2024

Best Paper & Poster Awards:

June 20, 2024
Instructions for
Authors
Please only use the submission system conftool to submit your abstract. To be able to submit an abstract, please create a user account in conftool first. Virtual presentations are possible, though limited to 10% of total presentations.

With regards to the abstracts, there is no designated template. The submission of a uniform text of max 2400 characters (including spaces) is sufficient. In addition to the abstract, the submission of a figure is also possible.



However, care must be taken to ensure that the abstract stands on its own and that no sources are cited. In addition, institutes or companies may not be named and there must not be advertisement. These points are essential for the double blind review. Furthermore, the current status or maturity of the research must be made clear.

The deadline for the submission of abstracts has been extended to December 6, 2023.



To stay up to date you can signup for our conference newsletter or the conference LinkedIn group.



Publication
policy
Contributions distributed online before and during the conference
All submissions under non-exclusive copyright
Presentation types are oral or poster presentation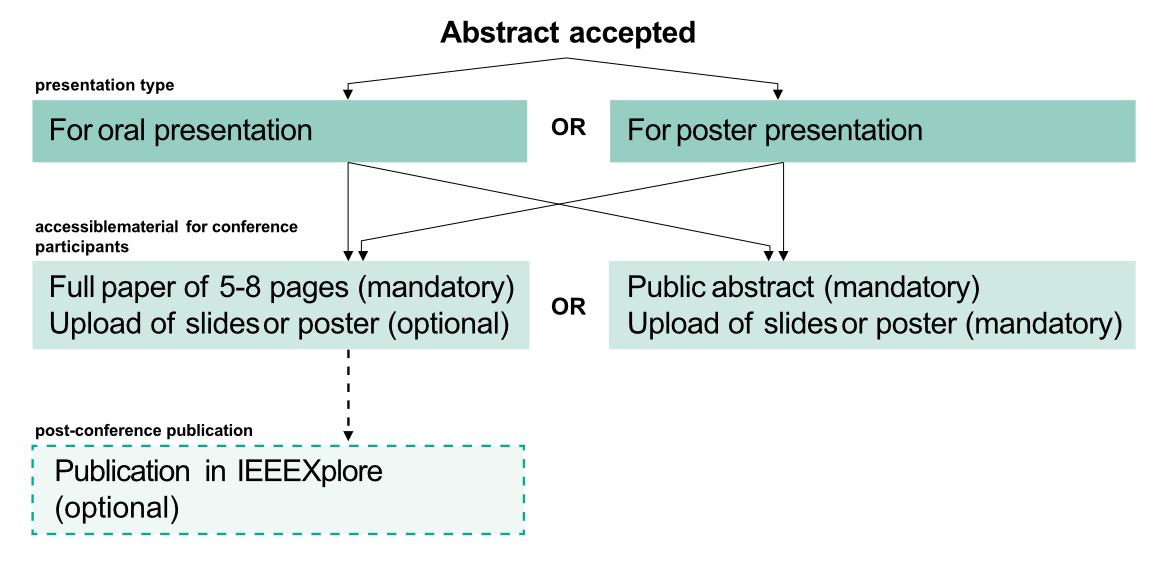 General
information
Conference venue: The conference will be held in a hotel in the heart of Berlin
Registration: Register online from March 2024. The reduced registration fee for speakers will be 950 €, incl. all lunches, daytime refreshments, evening event and Wifi Access
Best Paper & Poster Awards: every contribution will be considered for the Best Paper & Poster Awards. The award ceremony will take place at the closing of the conference.
Language: the official language for all presentations is english
Conference registration fees
Speakers, Poster presenter
---
Registration required until March 30
Chairs, Committee Members
---
* early bird fees before March 30, 2024
** regular fees past March 30, 2024


Environmental effects of mature, as well as emerging technologies and materials
Green ICT and Green by ICT
Environmental Assessment from Lab-to-Fab
Automated Sustainability Assessments in the Development Process
Products and Applications: ICT, Consumer Electronics and Network Equipment
Technologies for AI, IoT, Wearables & Electromobility
Ubiquitous Electronics
Technologies for Quantum Computing
Technologies for Clean Room Processe
Process Chemicals: Reuse and Recycling
Technologies for Plastic Recycling for the Electronics Industry
Innovative Materials, Components and Processes in the Electronics Industry
Life Cycle Assessment (data) of specific electronic components
Critical View on Existing LCA Data: Identification of Data Gaps
Raw Wafer Manufacturing Data - State of the Art
Existing and Evolving ICs (CMOS) - Data Sets According to Technology Nodes
Components Based on GaN, SiC and GaAs
Existing and Evolving Memory Technologies (DRAM, NAND)
Existing and Evolving Display Technologies (LED, OLED, etc.)
Multilayer, High-density and Flexible PCBs
Advanced Connectors (Optical Tranceivers, etc.)
Passive Components (Electrolyte Capacitors, Large Power Transformers, etc.)
LCA data management along the supply chain
Primary Data from Cradle to Gate - Data Handling Along the Supply Chains
Circular Data - Information for the Circular Economy
Digitalisation of the Electronics Supply Chain: Decreasing Risks, Increasing Transparency
Digitalisation and Machine Learning for Environmental Assessment Data: Methods, Demands and Challenges
Technologies for Data Exchange: Passports, Twins & Co.
LCA (data) as Part of the DPP
Scope 3: Target Setting and Emissions Reduction
Environmental Assessment Data Beyond CO2 (Water, Toxicity, Raw Material Criticality, etc.)
Fair, clean and conflict-free electronics
Definitions and Requirements of Fair Electronics
Standards to Ensure Conflict-Free Sourcing
Social Conditions in the Electronics Industry
Sustainable Business Models for Electronic Products and ICT Services
Green Claims: Best Practices
Roadmaps and Policies (RoHS, WEEE, REACH, ESPR, etc.)
E-Waste: Transboundary Shipment and Recycling
Critical Materials: Restrictions, Reduction, Elimination, Substitution (i.e. PFAS)
Circular Economy Strategies
Approaches for a Circular Society
Circular Design - How to Set Priorities and Develop Design Strategies
Circular Economy and Secondary Raw Material Data
Circular Approaches for Electronics in Industrial Applications
Life-Time Extension & Value Retention Loops: Rethink, Refuse, Reduce, Reuse, Repair and Recycle
Approaches to Board Level Repair and Component Reuse
Recycled Materials for Electronic Components in the Circular Economy
Managing Reliability, Obsolescence and Counterfeit Components
Some more topics will be available in the submission system.
We invite presentations on new methods, tools and industry case studies on all of the above topics. Please contact us, if you would like to submit for related topics, which are not covered.