The Green Electronics Council (GEC) Catalyst Awards seek to inspire innovation in the design, manufacture and use of electronics to advance sustainability principles. By recognizing transformative yet scalable advances, GEC highlights innovative best practices throughout the supply chain that move society ever closer to a world in which only sustainable electronics are designed, manufactured, purchased and processed at the end of their useful life.
The 2016 Catalyst Award winner will be publicly recognized in September at the Electronics Goes Green Conference in Berlin, Germany, as well as being publicized via media. Nominations were accepted worldwide from any organization, individual or combination thereof collaborating to achieve sustainability. Nominations were accepted for products, processes, policies and programs launched within the past five (5) years and that exist in the public domain at the time of submission.
The Catalyst Awards are managed by the Green Electronics Council, a mission-driven 501c(4) non-profit that seeks to achieve a world in which only sustainable electronics are designed, manufactured, bought, used and recycled. Founded initially to manage EPEAT, the definitive global rating system for greener electronics, GEC advocates for sustainable electronics by facilitating both manufacturers and large-scale purchasers to understand the challenges facing sustainable electronics; to commit to address those challenges; and to act and change internal operational, manufacturing and procurement behaviors. GEC collaborates with stakeholders of all types to facilitate the adoption of sustainable manufacturing and procurement behaviors.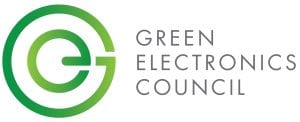 Further information:
https://greenelectronicscouncil.org/sustainable-solutions/awards/catalyst-awards/